ANIMAL SECTION ON WOLVES & CANINE
Proud to Use with permission one of Wolf Park's photographs to be given as a "Humane Award"
Please visit their site at:
http://www.wolfpark.org/
This award can be applied for at:
http://stopthepain.freeservers.com/giftawards.html

Assistance Dogs International
Canadian Voice for Animals
Canine Companion National Website
Defender's of Wildlife
Dr. Plonsky's Assistance Dogs
Gray Wolf's Home Page
Gray Wolf Web Site
IAADP - Assistance Dog Laws &
Legal Resources
Int'l Wolf Center Index Page
Kyler Laird's Animal Rescue Resources
"North American Wolf Assoc.
Onyx-small.jpg
Service & Assistance Dogs
Stray Rescue of St. Louis
The Wolf Pack
The Wolf's Den
Tigerden Server Move Announcement
Wolf Dog Coalition
Wolf FAQ
Wolf Haven
Wolf Park Home Page
Wolf Sounds (in .wav format)
WOLVES
Wolves and Wolf Hybrids
Wynthea Kennels


~~~ The Vision ~~~
As I lay uninterrupted from daily overwhelming pain
Dreaming of distant plains
A vision of splendor and majesty
What could conceivably be approaching?
This steady form appeared slow moving
The strength and energy in running
The magnificent colour amalgamation
And especially, oh yes, especially....the eyes.
Apprehension did not beseech me
Only a tranquillity of warmth
For my pain was relieved by this noteworthy scene
If only for a condensed lastingness.
Power of gazing drifted into my anatomy
For only a brief instant
Those eyes were hypnotizing
As they allured me even closer
Now determined what I envisioned
Although it did not persist
This apparition of majesty
Yes...a wolf just had transcended.
I awoke renewed and in awe
Yet in considerable pain
While glancing past my reflection
My eyes transformed momentarily,
Mystifying as that of this illustrious gray wolf.

© By M.B. Black
Please visit the website and story in Lucy's Honour
and try to send your support and help as best as possible. She needs JUSTICE!!!
http://www.geocities.com/doglucy4justice/


.............




.............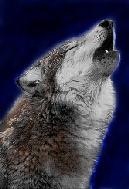 ......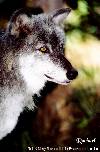 ......