PAGE 3
MY
AWARDS/MEMBERS PAGE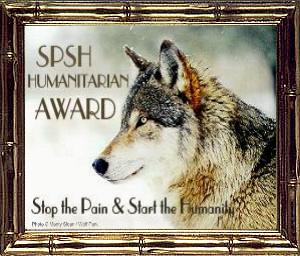 One sample of awards which may be applied for
Please apply for any of 8 SPSHawards from:
http://stopthepain.freeservers.com/giftawards.html


I'm extremely proud of the awards displayed on this page as on page 1.
Thank you all for your kindness, understanding and compassion.
They have been placed here to be viewed by all:
Please visit their individual web sites as you will not be disappointed,
only extremely delighted at what you visualize.
Bless you all!
Websites displaying my awards are listed at:
Visit My SPSH awards page
Special Thank you to the "French Natural" for the above 3 lovely awards.



I Am A Proud Member Of:



Phenomenal Women Of The Web

Navigation of my pages

Reversal of Life | Med Associations | Linksites on pain syndromes
| My personal poetry & Articles |Animal section on Wolves/Canine |
Odds & Ends/Misc. | Listening to Pain/SPSH members | NASAP members Stories | Awards received page1 | SPSH awards/winners |Graphics/Poetry sites | awardspage2 | webrings |

Stop the Pain and Start the Humanity


1998, 1999, 2000

© Maureen B. Black
Last Updated: